G.fast Dual-WAN VPN Firewall Router
- G Fast
- Built-in 35b/VDSL/ADSL & LTE Modem
- 60k NAT Sessions
- 32 Concurrent VPN
- AX 3000 (optional)
Overview
 The Ultimate DSL Router for SMB
Vigor2866 Series is a VDSL2 35b/ADSL2+ Security Firewall router integrating a DSL modem which is compatible with variants of ADSL and VDSL, including profile 35b supervectoring. There is also a Gigabit Ethernet WAN port for broadband connections to share the traffic load or serve as a failover connection. 3G/4G/LTE USB modem can also be attached to the USB ports of the router. The 2866 LTE series includes models with built-in 802.11ac Wave 2 wireless standard and VoIP gateway.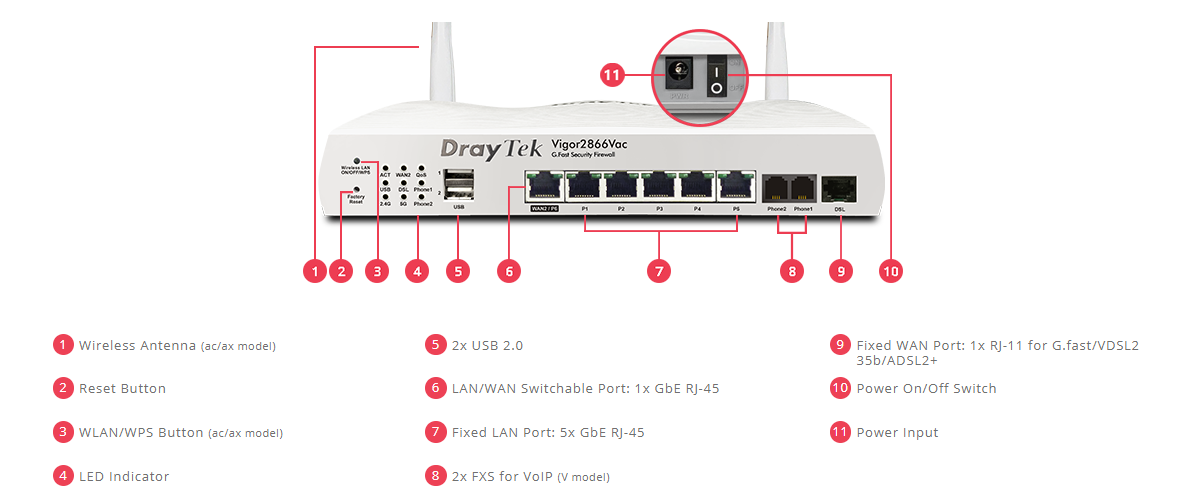 Models
Model
2.4GHz WLAN
5GHz WLAN
Wireless Antenna
Max Link Rate
VoIP Gateway
FXS RJ-11
Vigor2866
-
-
-
-
-
-
Vigor2866ax
Yes
Yes
2x Dual-Band
(3.5dBi for 5GHz, 2.3dBi for 2.4GHz)
2.4 GHz: 574 Mbps
5 GHz: 2.4 Gbps
-
-
Vigor2866ac
Yes
Yes
2x Dual-Band
(4dBi for 5GHz, 2dBi for 2.4GHz)
2.4 GHz: 400 Mbps
5 GHz: 867 Mbps
-
-
Vigor2866Vac
Yes
Yes
2x Dual-Band
(4dBi for 5GHz, 2dBi for 2.4GHz)
2.4 GHz: 400 Mbps
5 GHz: 867 Mbps
Yes
2
Specs
Interface

Fixed WAN Port
1x RJ-11 for VDSL2 35b or ADSL2/2+
LAN/WAN Switchable Port
1x 10/100/1000Base-TX RJ-45
Fixed LAN Port
5x 10/100/1000Base-TX RJ-45
USB Port
2x USB 2.0
Wirelss Antenna
2x External Dipole
Gain: 4 dBi for 5GHz, 2 dBi for 2.4GHz
(ac model)
2.4G WLAN
802.11n 2x2 MIMO 400Mbps (ac model)
5G WLAN
802.11ac Wave 2 2x2 MU-MIMO 867Mbps (ac model)
FXS RJ-11
2 (V model)

Performance

NAT Throughput
800 Mbps
NAT Throughput w/ Hardware Acceleration
940 Mbps (Ethernet WAN)
1.3 Gbps (Ethernet WAN + DSL WAN)
IPsec VPN Performance
300 Mbps (AES 256 bits)
SSL VPN Performance
130 Mbps
Max. Number of NAT Sessions
60,000
Max. Concurrent VPN Tunnels
32
Max. Concurrent OpenVPN + SSL VPN
16

VDSL/ADSL

VDSL Standards
ITU-T G.993.2 Annex A/B/M/Q (up to Profile 35b but excluding 30a)
T1.424
ITU-T G.993.5 (Vectoring)
VDSL2 Profile
8a, 8b, 8c, 8d, 12a, 12b, 17a, 35b (not G.fast)
ADSL Standards
ITU-T G.992.1 (G.dmt), ITU-T G.992.3 (G.dmt.bis), ITU-T G.992.5 (ADSL2+) (G.adslplus), T1.413 Issue 2
Other Standards
ITU-T G.994.1 (G.hs), ITU-T G.997.1 (G.ploam), ITU-T G.998.4 (Retransmission)
Band Plan
998, 997

Internet Connection

IPv4
PPPoE, DHCP, Static IP, PPTP/L2TP
IPv6
PPP, DHCPv6, Static IPv6, TSPC, AICCU, 6rd, 6in4 Static Tunnel
802.1p/q Multi-VLAN Tagging
 
Multi-VLAN/PVC
 
Wireless WAN
(ac model)
3G/4G/LTE WAN with USB modem
 
Load Balancing
IP-based, Session-based
WAN Active on Demand
Link Failure, Traffic Threshold
Connection Detection
ARP, Ping
WAN Data Budget
 
Dynamic DNS
 
DrayDDNS
 

LAN Management

VLAN
802.1q Tag-based, Port-based
Max. Number of VLAN
16
Number of LAN Subnet
8
DHCP Server
Multiple IP Subnet, Custom DHCP Options, Bind-IP-to-MAC
LAN IP Alias
 
Wired 802.1x Authentication
 
Port Mirroring
 
Local DNS Server
 
Conditional DNS Forwarding
 
Hotspot Web Portal
 
Hotspot Authentication
Click-Through, Social Login, SMS PIN, Voucher PIN, RADIUS, External Portal Server

Networking

Routing
IPv4 Static Routing, IPv6 Static Routing, Inter-VLAN Routing, RIP, BGP
Policy-based Routing
Protocol, IP Address, Port, Domain, Country
High Availability
 
DNS Security (DNSSEC)
 
Multicast
IGMP Proxy, IGMP Snooping & Fast Leave, Bonjour
Local RADIUS server
 
SMB File Sharing
(Requires external storage)

VPN

LAN-to-LAN
 
Teleworker-to-LAN
 
Protocols
PPTP, L2TP, IPsec, L2TP over IPsec, SSL, GRE, IKEv2, IKEv2-EAP, IPsec-XAuth, OpenVPN
User Authentication
Local, RADIUS, LDAP, TACACS+, mOTP
IKE Authentication
Pre-Shared Key, X.509
IPsec Authentication
SHA-1, SHA-256
Encryption
MPPE, DES, 3DES, AES
VPN Trunk (Redundancy)
Load Balancing, Failover
Single-Armed VPN
 
NAT-Traversal (NAT-T)
 
DrayTek VPN Matcher
 

Firewall & Content Filtering

NAT
Port Redirection, Open Ports, Port Triggering, DMZ Host, UPnP
ALG (Application Layer Gateway)
SIP, RTSP, FTP, H.323
VPN Pass-Through
PPTP, L2TP, IPsec
IP-based Firewall Policy
 
Content Filtering
Application, URL, DNS Keyword, Web Features, Web Category* (*: subscription required)
DoS Attack Defense
 
Spoofing Defense
 

Bandwidth Management

IP-based Bandwidth Limit
 
IP-based Session Limit
 
QoS (Quality of Service)
TOS, DSCP, 802.1p, IP Address, Port, Application
VoIP Prioritization
 

Wireless LAN (ac model)

Number of SSID
4 per radio band
Security Mode
WEP, WPA, WPA2, Mixed(WPA+WPA2), WPA3
Authentication
Pre-Shared Key, 802.1X
WPS
PIN, PBC
WDS
Repeater (5GHz only)
Access Control
Access List, Client Isolation, Hide SSID, WLAN Scheduling
AirTime Fairness
 
Band Steering
(ac model)
MU-MIMO
(5GHz Only) (ac model)
WMM
 

VoIP Gateway (V model)

Protocol
SIP, RTP/RTCP, ZRTP
SIP Registrars
12
Dial Plan
Phone Book, Digit Map, Call Barring, Regional
Call Features
Call Waiting, Call Transfer, Scheduled DND, Hotline
Voice Codec
G.711 A/u law, G.723.1, G.726, G.729 A/B
Caller ID
FSK_ETSI, FSK_BELLCORE, DTMF

Management

Local Service
HTTP, HTTPS, Telnet, SSH v2, FTP, TR-069
Config File Export & Import
 
Config File Compatibility
Vigor2862
Firmware Upgrade
TFTP, HTTP, TR-069
2-Level Administration Privilege
 
Access Control
Access List, Brute Force Protection
Notification Alert
SMS, E-mail
SNMP
v1, v2c, v3
Syslog
 
Managed by VigorACS
 
Central VPN Management
8 VPN
Central AP Management
20 VigorAP
Mesh Network
7 VigorAP
Central Switch Management
10 VigorSwitch

Physical

Power Supply
DC 12V @ 2A
Max. Power Consumption
24 watts (ac model)
Dimension
241mm x 166mm x 46mm
Weight
620g (ac model)
Operating Temperature
0 to 45°C
Storage Temperature
-25 to 70°C
Operating Humidity (non-condensing)
10 to 90%
Certificate
Notes :
All specifications are subject to change without notice.

The throughput figures are maximum, based on DrayTek internal testing with optimal conditions. The actual performance may vary depending on the different network conditions and applications activated.