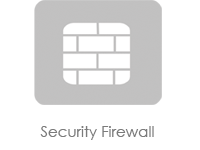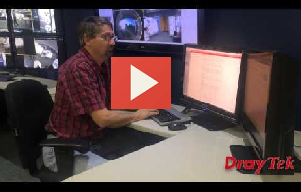 A basic firewall is used to inspect the traffic that moves between your network and the outside world. It protects your networks from unsolicited public network traffic and attacks.
It can keep viruses, worms and threats out of your network, while allow your users to safely send and receive information to and from the internet. DrayTek routers not only perform basic firewall functions, but also feature a variety of advanced functions to more thoroughly manage and protect your network.
Advanced Firewall for a Secure and Efficient Workplace DrayTek routers include an Object-based Firewall with Stateful Packet Inspection. This allows firewall rules to be applied to single IP addresses, ranges or subnets, ports, protocols, or applications. Firewall rules can also be created for a specified User Group or Time Schedule.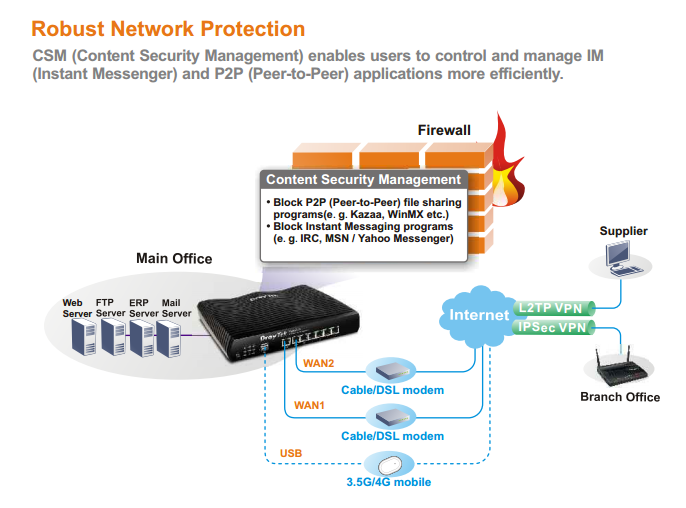 Example Use Case:
Block user group "Child" from accessing websites with adult content.
Block employees from accessing "Facebook" during office hours
Commtouch GlobalView WCF Commtouch (now CYREN) WCF license can be applied to your Draytek router for added security. Cyren can block websites based on categories e.g. "Social Networking". Draytek further refines this by allowing white-lists or black-lists. Additionaly, Draytek's DNS filter can efficiently filter HTTPS websites as well. Application e.g. Block Social Networking but allow only Facebook *Productivity Enhancement *Bandwidth Regulation *HR Policy Compliance *Preventing Web Threats